Hallo readers,
When I was growing up, I compared myself with my neighbours or with my classmates. This gave
me that feeling that I was not as good as they were. I was unhappy and felt so inferior.
I found myself focusing and struggling on being like them.
Just another bad way of living.
Did you do this too or did your parents compare you to somebody else?
My mum was an expert in this, especially when I had messed up and she had to make some *noise* to me, (My brothers and I called it BBC-Time) and her every second sentence went like this, "can't you be like so and so??" But what my mum didn't know was that the parents of the "so and so" she compared me to, compared their kids to me too.
Ha-ha-ha, jokes aside. Parents only want the best for their kids.
What about some of the teachers who insisted that we should all in a class of 40 students, understand
everything at the same pace, and become number one. CMON Education-System, it is the high time you started chasing talents and attitudes in your students.
This can be more useful to the world. Don't you think so?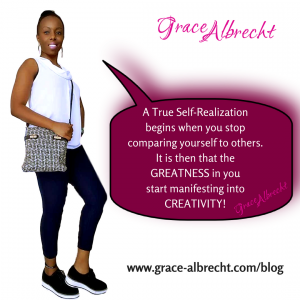 Well, the bible calls those who compare themselves to each other #foolish.
If you want to welcome a disaster in your life, start comparing yourself to others. You will never be contented with whom you are and what you have. The comparison-syndrome might make you do crazy weird things. God forbid!
Realize that we all have different purposes here on this earth. The fact that you don't have what your neighbour already has, doesn't mean you are a failure. You are original in a unique way. Stop killing yourself by falling into this comparison trap from your enemy.
Remember, THE PLANS THAT GOD HAS FOR YOU ARE PLANS TO PROSPER. YOU ARE THE BEST!
Focus on your purpose, recognize your identity and live them! SIMPLE!
Have a Comparisons-free day!
I love you,
yours Grace