Hallo Reader,
you have definitely heard me talking about living a God given purpose. Have you? Well, you will hear it again and again.
The truth is that, I struggled for many years searching for my purpose. And before my spiritual awakening I always thought that my career was my purpose.  I therefore, concentrated on achieving
higher accomplishment. I totally believed that my career was the reason as to why I was born. Do you also think like I thought?
Unfortunately, many people die having not discovered what their purpose is. This a great loss to the world, for you are an unwrapped gift to it. God has placed some special purpose inside of you. God want you to be an answer to somebody's else prayers.  Your responsibility is to allow the world to unwrap that gift that God put in you.
Life has much more beautiful things to offer, other than repeating the same patterns years after years. I believe that God is fair enough not to hide our purpose for us. We are just too much programmed in chasing career and in the process, we lose the awareness of our gifts. For some of
us we are even in a career that was laid out by our parents, or circumstances forced us to be in any career possible. You therefore end up being limited in your life instead of you to flourish into your purpose.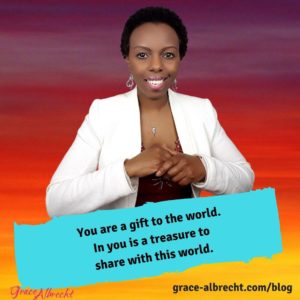 I know that we need to pay our bills and that is why we need a job. But if you are like me, even after getting that good paying job and paid my bills, something was still missing in my life. Financial success doesn't literally mean that one is happy.
Your God given purpose is bigger than your job. Honestly, would you not like to experience more happiness in your life? Living your purpose gives life a complete new meaning with fulfilment. In each one of us, there is something unique, precious and of great value, something that you are so passionate in and you can do it better than your next. It is a treasure stored inside you. Embrace yourself, you are an unwrapped gift to the world.
Have you discovered what your life's purpose is? Would you like to expand your potential and live a life aligning with your God given purpose? Don't be shy, drop me an email.
I love you,
yours Grace