Healing From My Oldest Self
I believe that you EXACTLY know the state of your mind and soul right now as you are reading this post.  Don't you? Well, whichever the state you are, positive or negative, best or worst, I trust that you are aware how this plays a significant role in your wellbeing.
I purposely asked about the state of your mind and soul because they are the most neglected and ignored in today's human era. Let's face it, most of us, if not all are so determined in taking good and extra care of their bodies, I mean that flesh of yours that drags you from point A to point B. You shower it and if time allows you take it to bath, you apply it some fragrances, you dress it well and the list goes on. You are fast in meeting its desires and you want the best for it. Honestly confessing it to you, I too belonged to this category.
Unfortunately, even after taking good care of my flesh, I was spiritually and mentally exhausted, void and empty. I could feel a breakdown knocking on my door. Guys, when I say that God is faithful, and His grace is sufficient for me, I just don't say it because I read it somewhere but because I have tasted it.
listen, to make sure you are living your healthiest God given gift of life to the fullest, there must be a good balance between your body, soul and mind. Having a good balance in these three, is what I would simply refer to a totally healthy you.
I am so thrilled in wanting to share with you how I managed to overcome the breakdown. You see, I love sharing only what I myself have experienced, at least I know what I am talking about and I can relate to it.
So, if you are struggling like I did, if you can feel a breakdown, if you feel exhausted and the best you want now is to escape from this world, I want you to be comfortable and know that you are not alone.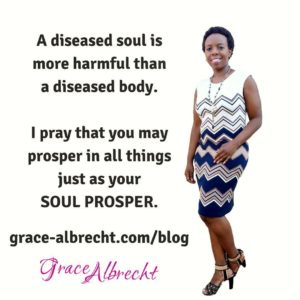 After spending a long period of time searching for happiness outwardly, everything else in this world failed me. Money, wealth, human relationships could not secure me either. BUT JESUS saved me. Discovering who JESUS really is and having a clarity of nothing but the truth about Him has radically transformed me.  I recently met a friend whom I have not seen for some years ago, and she was like,"what happened to you Grace, I just admire and adore you". She could see a transformed different Grace than the one she knew.  I am not writing this to brag about myself but all for the glory of God.
The misconception that God is all about religion had totally misled me.  Were it not for me discovering the truth, I would have lived my whole life afraid and enslaved to emptiness.  Trust me, your mind needs to be transformed to having the minds of Christ. Your soul need to be healed, restored and renewed.
A breakdown in your system does not necessarily mean that your flesh is the reason. So, stop rushing to the doctor and pumping yourself with medicines.  Fixing only your flesh is not fixing the core roots of the problem.  FIX YOUR SOUL, FIX YOUR MIND, FIX YOUR BODY. Dig deep inside yourself, what is holding you back? Wouldn't you rather prefer healing yourself with a heavenly medicine?
Surrender your life unto God and resist temptations. Experience an amazing change in your life. An awareness that there is much more than just satisfying your flesh desires. A beginn of a journey of happiness, effectiveness and a totality of a healthy you.
I love you,
yours Grace