Persevering In The Midst Of Hardships.
Life will now and then throw to you some hardships that makes you collapse in a corner feeling like nobody cares, hopeless and broken. We have all been there, Haven't you? And as long as you are present on this planet earth, hardships of life will always come, I promise you.
Today I want to remind you clearly that no matter the hardship you are going through right now, you are not odd. We all have our highs and lows seasons, which is a part of life. (And by all, I mean EVERYBODY- no exceptions)
However, we have different ways of responding to our hardships depending on how prepared we are. Some of us will run to addictions like drugs, alcohol etc., others will try to seek help in the new age era, and others will succumb in their own brokenness – sad. Just to mention a few ways.
And then, there are those like me who have realized the power in them through our Lord Jesus Christ to persevere in the midst of a hardship, regardless of how tough it may seem to be. I have made a choice to turn my hardships into a powerful tool to inspire others and help those who suffered from a similar hardship. This blog is one of the tool I use to reach out broken hearts.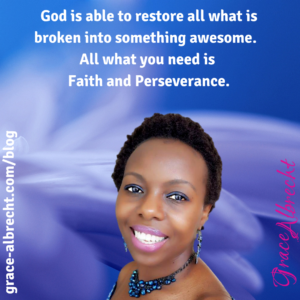 33"These things I have spoken to you, so that in Me you may have peace in the world you have TRIBULATION but take courage; I have overcome the world." John 16:33
Every experience that I make today, may it be positive or negative will definitely have a great impact to my tomorrow or even to yours. Persevering through the hardship makes you wiser, stronger and bold. So, don't allow self-pity to stop you from overcoming and moving forward.
It's your responsibility to let perseverance grow in the inside of you dear friend. This does not happen like a microwave miracle but it's something that you gradually acquire as you overcome every hardship.
A producer will never produce anything with its purpose. So is our creator. God had already seen your purpose and He knows that you are fit to fulfil it, no matter what comes your ways. God knew that there are some challenges that you will face. He promised you never to abandon you. Hold on His promises as you persevere through and never give up. You are Gods masterpiece. (Ephesians 2:10)
It's up to you to not allow situations to overcontrol you as you face your hardships. Instead learn and grow from them, gather experience and use it to help others persevere with hope and faith.
BECOME A HERO!
Points to ponder:
1. Don't object Hardships, see them as a part of life.
2. Hold on the truth that God is able to turn your mess into a message.
3. A life done without Jesus is meaningless and all is vanity.
4. Perseverance produces blessings and if you don't believe me, confirm it from the bible.
With love,
yours Grace