The Power Of A Renewed Mind.
Hallo,
well, I don't know about you, but I have personally reached to that point of my life, where  I passionately hate losing, especially when my manual – my bible tells me that I am more than a conqueror.
Let's face the truth, who loves losing anything in life anyway? But are you living a life of a conqueror or is your life pathetic? I struggled with failing and losing for many years in my life.  No matter how hard I tried to make the ends meets, it felt like the ends were moving further and beyond my reach.
Today I am going to share with you one huge secret of living your life as a conqueror and this is one of the greatest revelations that I ever had in my life. The biggest battle is in your mind. You cannot be a conqueror with a negative mindset. NEVER EVER!
You see, being a conqueror doesn't mean that you'll not face obstacles. It simply means that you have renewed your mind to that level where you know that even before that obstacle comes your way, you have already conquered it through Jesus Christ who strengthens you.
The reality is this: Chronic negative thinking has hit a record in the world, thus making most of us live a miserable life. Depression, Anxiety, suicidal, mediocrity, sickness (just to mention a few) are oppressions on a high rise and most likely because of negative thinking.
It is in your mind that everything is controlled, your behaviour, actions and even how you respond to a single situation. Your mind is your core source of reasoning.
Too often, I kept asking myself why my prayers were not being answered. Little did I know that God was eagerly waiting for me to play my part by renewing my mind.  I had to cut myself off my old way of thinking. Start by feeding your mind with positive things and nothing but God's truth. Stop feeding your mind with trash and junk from Tv, social media, music-industry and co.  Every single thing that goes into your mind will affect the whole of your life. Be careful!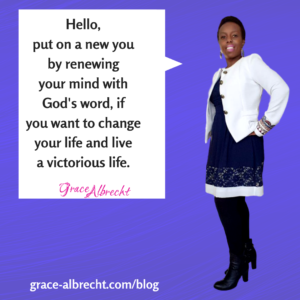 My greatest desire is for you to get this revelation and live a victorious life. You don't need another set of prayers. You don't need to be travelling from destination A to Z looking for answers to your problems. You don't even have to buy another book explaining the "how to live a victorious life" for example.  All you need to do is to RENEW YOUR MIND.
Renewing your mind is not a one time event, it's a lifestyle.  I am still learning it on daily basis. Of course, especially when obstacles hit us, we have a lot of negative words floating and trying to enter our minds and you can't control it. But you have the power to reject any negative thought by replacing it with a positive one.
My dear sister and my dearest brother, trust me in this one. Until you are willing to renew your mind, you will never be able to exercise the greatness in you, the power, authority and dominion given unto you over challenges, fear, sickness, poverty and so on.
Philippians 4:8-9 will help you to renew your mind. It says: Finally, brothers, (and sisters) whatever is true, whatever is noble, whatever is right, whatever is pure, whatever is lovely, whatever is admirable-if anything is excellent or praiseworthy-think about such things. Whatever you have learned or received or heard from me or seen in me-put it into practice. And the God of peace will be with you.
Always with love,
yours Grace